When you buy through my links, I may earn an affiliate commission.
Mahogany is one of the popular tonewoods in the acoustic world and an all-mahogany guitar such as the Fender CD60s All-Mahogany is like a blessing.
Just like most college students, I was always on a budget. I mean, college life is hard; I guess we can all agree to that.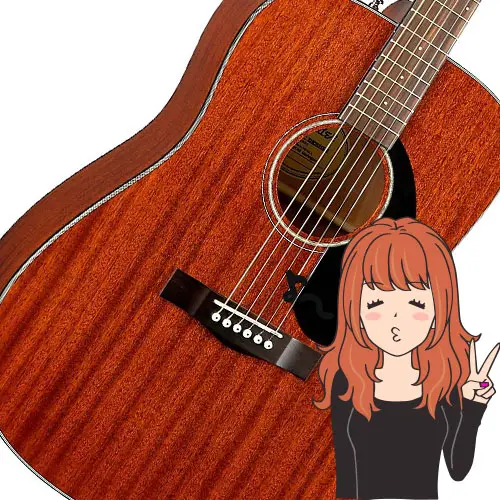 Being on a budget means checking out the "price" instead of the quality. That's my experience with my first guitar at least. If you must know, it was terrible.
I only bought it on an impulse, and I was eager to learn. I still used it to practice, but of course, it didn't last long.
Naturally, a few months after my regretful decision, I saved up for a better guitar. After hours of searching, both in-person and online, I found the Fender CD-60s which happens to be one of the best starter guitars per se.
Review of: Fender CD-60s All Mahogany
Pros
Comes as a bundle
Great value for its price
Excellent for different playing styles
Easy to play neck
Low action
Built to last
Cons
Some buzzy frets
Not ideal for advanced players
An affordable guitar with robust sound and loud projection. Specially made for beginners given its extreme comfort thanks to the rolled fingerboard edges.
This Fender beaut is ideal for beginners on a budget. "With an affordable price, comes great quality." For an entry-level guitar of this price, it can already be considered a high-end.
If you're an advanced player, I won't recommend this guitar for you. Although, it can still be a good backup guitar. Regardless, here are some other guitars you might find interesting.
One of the Best Beginner Guitars
For someone on a budget, this guitar is really something. It's not that expensive, and it delivers authentic sound. You won't have that problem anymore of having poor quality because you bought something "cheap." (That was my problem at least.)
This fantastic entry-level guitar has a great resonance producing vibrant sound and epic volume. With the rolled fingerboard edges, beginners will find it easy to play this guitar.
At a low price, it boasts a solid Mahogany top delivering that robust sound and dynamic range. With it, this guitar is suitable for any genre or playing style. It also features a Mahogany back and sides. The all-mahogany build projects stronger sound and emphasizes more on the midrange.
It comes in a bundle, the guitar itself, strap, tuner, bag, picks, strings, and instructional DVD to get you started. It's a great deal particularly for beginners alike.
All-Mahogany Dreadnought Guitar
The famous American brand, Fender, made this beautiful dreadnought. It brags a solid Mahogany top combined with laminated Mahogany back and sides. The Quartersawn Scalloped "X" Bracing gives it extra sturdiness.
It has a glossy finish making it more appealing to people who like that classy traditional look.
Furthermore, with its solid top, this guitar is built to last. In other words, the longer you have it, the better quality it'll have. With that said, this guitar is an excellent investment for you, especially if you're a beginner.
Note that it's an entry-level guitar, so it doesn't compete with other expensive guitars. But it does give an adequate quality given its price range.
Check Pricing and Availability on Amazon.com
Well-Balanced Tone and Excellent Volume
The craftsmanship and tonewoods create powerful and balanced sounds. The dynamic range provided by the solid Mahogany top makes it suitable for any of your playing style. May it be fingerpicking, strumming, or even flat picking.
The tonewood blends so well that it balances the tone and giving it more emphasis on the midrange. Added with the bracing, this guitar's projection is much more significant.
Easy to play neck
The Fender CD-60s All-mahogany features a unique "easy to play neck." By definition, it has a rolled Rosewood fingerboard edges. It also has a low action making it easier for you to fret.
The neck has a gloss finish as well, making it look cool. More importantly, it'll be much easier for you to shift from different frets. Besides that, it features Chrome Die-cast tuning machines which will keep your guitar in tune.
It highlights 25.3 inches scale and 20 frets joined at 14th fret. It doesn't have a cutaway so reaching 15th fret and above is not ideal with this guitar.
To sum up, this is a totally perfect comfortable guitar for beginners!
Pros
This product comes as a bundle (bag, strap, tuners, picks, extra strings)
Great value for its price
Excellent for different playing styles
Easy to play neck and low action (perfect for beginners)
Built to last
Cons
There may be some buzzy frets
Not the best quality for advanced players, but good enough as a backup guitar
Final Thoughts on Fender CD-60s All-Mahogany
An affordable entry-level guitar, but brags a great tone and projection. With its dynamic range, any of your playing styles would suit this guitar.
Moreover, with its unique "easy to play" neck, this guitar is an excellent choice for beginners.
For this price range, it's surprising that it has a solid top because, in most cases, a solid tonewood means better sound quality. Other than that, solid top guitars are built to last long, so the Fender CD-60s All-Mahogany will be a good investment for you!
Enjoy? Share with your friends!