When you buy through my links, I may earn an affiliate commission.
I have a problem of being attached easily, yes, including material objects such as guitars.
Wait, let me rephrase that, "…most especially guitars!"
Now, I've been looking for a "new" guitar to add to my collection but also doesn't want to spend too much.
Something that I can also use for practice and jam with friends.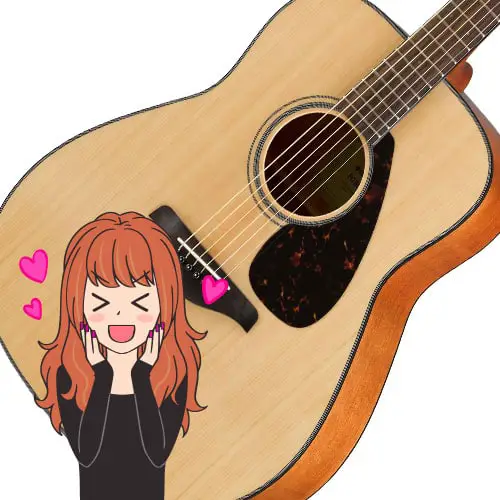 Although, most of the cheap guitars I see online is a rip-off until I encountered the FG800.
It's a surprisingly affordable guitar, but the quality is something to look forward.
Review of: Yamaha FG800
Pros
Lightweight
Great Value
Clear Bass
Stays In Tune
Affordable
Cons
The Nato Tonewood Isn't The Best
High Action
Might be a Bit Big
If you want a low price guitar but excellent quality, FG800 should be one of your choices. Unlike other cheap guitars, the FG800 won't disappoint you with regards to tone and comfort.
The Yamaha FG800 is ideal for beginners, as a gift, intermediate players looking for a new guitar to practice or jam.
For collectors alike, this could be one of your choices! Just because it won't break your wallet and at the same time, it has an excellent quality given its price range.
For beginners with small hands, you might find this a bit unsettling for the reason that the body might be more extensive for you and it has a higher action.
Technically, as time pass, you'll learn to overcome these simple things. Slowly but surely, you'll have it easy when playing a guitar of any size.
But of course, you have to take it easy, one step at a time. So, to make it easier for you, you might want to get a slightly smaller guitar.
A Budget Acoustic Guitar with Top-Notch Quality
FG series has been around for 50 years. From that "50 years", we can deduce that this series is something exceptional. These acoustics are famous for their excellent tone, great playability, and top-notch quality.
It's an affordable guitar but with exceptional quality. It has a simple traditional western design which most players find appealing. Although with the size of the guitar, people with small hands may find it a bit uncomfortable.
It consists of a solid top, which is unusual for this price range, which makes the sound more outstanding. That and the fact that solid guitars tend to be more durable than laminated guitars. Besides, it'll have a better quality the longer you have it, so you can consider it an investment per se.
FG800's Natural Acoustic Sound
The handiwork and tonewoods of this guitar create a bright and powerful tone. Most notably with their very own bracing, making the guitar project a more robust sound, particularly low to mid ranges.
Given its "little" higher action, strumming playing style will fit it. But of course, in the end, its a matter of preference. In my opinion, any playing style will be suitable considering that the guitar has terrific tonal quality.
Check Pricing and Availability on Amazon.com
A Lightweight Guitar with Improved Bracing​
The awesome people at Yamaha made this astounding guitar. It features a Solid Sitka Spruce top and Nato/Okume back and sides. Sitka spruce is one of the most popular tonewoods known for its lightweight and powerful tone.
The Nato/Okume may be the cheaper and lower quality version of the Mahogany, but with the combination of other tonewoods, the result is still impressive.
Also, it highlights their newly developed scalloped bracing. With this technology, the top board is more durable, and it brings out a more natural sound.
Most people will love the classic traditional western design this guitar has, including me. It brags a glossy finish and tortoise-shell pickguard. So, not only the quality is improved, so is the aesthetics!
The playability of this guitar doesn't disappoint either. It consists of Rosewood fingerboard and bridge with 25 9/16″ scale, and with 20 frets joined at the 14th fret. It has a chrome die-cast tuners which should help you to stay in tune.
Pros
A lightweight guitar
A great value provided with its price
Clear and good bass
Stays in tune for a longer time
Cons
The Nato tonewood isn't the best, but an adequate substitute for a lower price
Higher action
Maybe a bit bigger for people with small hands
One of the best budget guitars, the FG series has been choice of million guitarists according to Yamaha. It's an excellent option for guitarists just starting out.
Within those million guitarists, one of the famous people who used an FG guitar was Joseph Allen "Country Joe" McDonald, the lead singer of Country Joe & the Fish. He used it on the second day of the Woodstock Festival in 1969.
Some other notable artists who used the Yamaha guitar are Jimmy Page, Paul Simon, James Taylor, and Bruce Springsteen (to name a few).
Final Thoughts on Yamaha FG800
Whether you're a beginner looking for your first guitar, or a collector looking for a quality guitar that isn't so expensive, the FG800 is an exceptional choice in which you won't regret if you buy it.
The Yamaha FG800 has an authentic acoustic sound, which is much stronger compared to other budget guitar thanks to their unique scalloped bracing. Other than the sound, its build is just superb. It may have a little bit higher action, but other than that, the comfort of this guitar is just wonderful!
Enjoy? Share with your friends!